Magnetic Closure Gift Box / Eco Friendly Protective Wrapping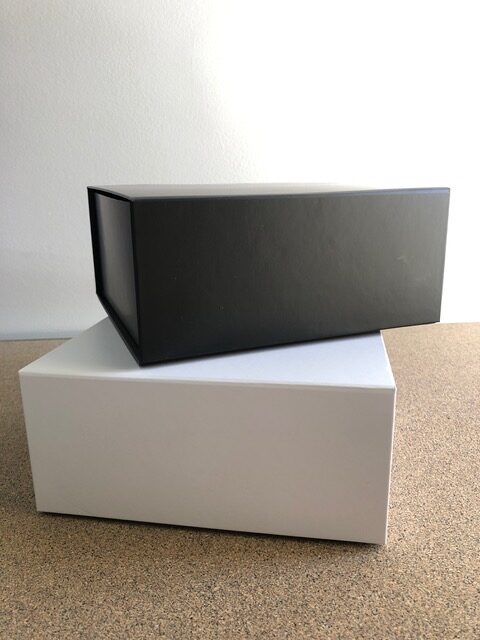 Magnetic Closure Gift Boxes Sizes and Quantity per pack
| | | | |
| --- | --- | --- | --- |
| Item | Description | Size (Width x Height x Depth in mm) | Standard Carton Size |
| | | | |
| 1 | Mini-WHITE | 180w x 180h x 80d | 40 |
| 2 | Mini-BLACK | 180w x 180h x 80d | 40 |
| 3 | Small-WHITE | 235w x 235h x 75d | 30 |
| 4 | Small-BROWN | 235w x 235h x 75d | 30 |
| 5 | Small-BLACK | 235w x 235h x 75d | 30 |
| 6 | Medium-WHITE | 285w x 285h x 100d | 20 |
| 7 | Medium-BROWN | 285w x 285h x 100d | 20 |
| 8 | Medium- BLACK | 285w x 285h x 100d | 20 |
| 9 | Large-WHITE | 350w x 300h x 100d | 15 |
| 10 | Large-BROWN | 350w x 300h x 100d | 15 |
| 11 | Large-BLACK | 350w x 300h x 100d | 15 |
| 12 | Extra Large-WHITE | 490w x 300h x 130d | 10 |
| 13 | Extra Large-BLACK | 490w x 300h x 130d | 10 |
| 14 | Single Wine-WHITE | 325w x 100h x 100d | 30 |
| 15 | Single Wine-BROWN | 340w x 100h x 100d | 20 |
| 16 | Single Wine-BLACK | 325w x 100h x 100d | 30 |
| 17 | Double Wine-WHITE | 325w x 187h x 100d | 20 |
| 18 | Double Wine-BROWN | 340w x 187h x 100d | 20 |
| 19 | Double Wine-BLACK | 325w x 187h x 100d | 20 |
---
ACID FREE TISSUE PAPER
If you need some Acid Free Tissue Paper, We have it too.
500w x 750h in a ream of 500 sheets (Black or Brown) and 1,000 sheets (White).
510w x 760h in a ream of 480 sheets available in Green, Orange, Pink, Red, Turquoise, Violet or Yellow.
Contact us for further Information about the price and delivery date.
our friendly staff is ready to answer all your questions.